SMALL ANIMAL BEDDING AND CAGE ACCESSORIES CATALOGUE
The following items have been used for Marmoset Monkeys, Chinchillas, Hedgehogs, Sugar Gliders, Guinea Pigs, Birds, Rats, Hamsters, Rabbits and many other small animals
Orders can take 1 – 3 weeks to complete. Very large orders will take longer.
We do our best to get the order to you as quickly as possible.
Once completed, your order will be couriered or posted to you.
For security reasons we don't allow collections.
All items have to be made by us, which means it takes time.
As each of the items you order are customised to suit your style (colour, fabric, size) we have a no return or exchange policy. We are only able to resell the item if we are lucky enough to find a buyer with the same taste and need as you. Please ensure that you know all about the product before ordering so that you are well aware of what you will be receiving. The measurements given below are approximate.
All questions will be answered promptly. Email us at sales@dogzincats.co.za If for some reason you do need to send the item back to us and we agree with the reason, please ensure that the item is as clean as possible. Make sure you have read our terms and conditions of sale as well.
Small Pouch Scarf
Approximately 18cm wide x 13cm deep
Large Pouch Scarf
Approximately 26cm wide x 21cm deep
The best way to bond with your Sugar Glider, Hedgehog or other small critter
The scarf has a discreet vented pouch with zip
Choose your own colours
Made in fleece
Choose your own colours
Made in fleece
Suitable for marmoset monkeys and other small critters
Approximately 50cm high with a 30cm base
Choose your own colours
Made in fleece
Choose your own colours
Made in fleece
Made to hang in cage
All Fleece
Each cube has 3 holes, 1 on top, 1 on the side and 1 at the bottom
Has hammock at the bottom
Measures aprroximately 120cm from top hook to bottom hammock
A fleece vine runs through the centre
A warm little hideaway
A tube style bed with the opening higher up, allowing your pet to feel safe and secure while sleeping.
A great place for Sugar Gliders to breed.
Choose your own colours
Made in fleece
A flower design hammock
Choose your own colours
Made in fleece
Measures approximately 45cm from corner to corner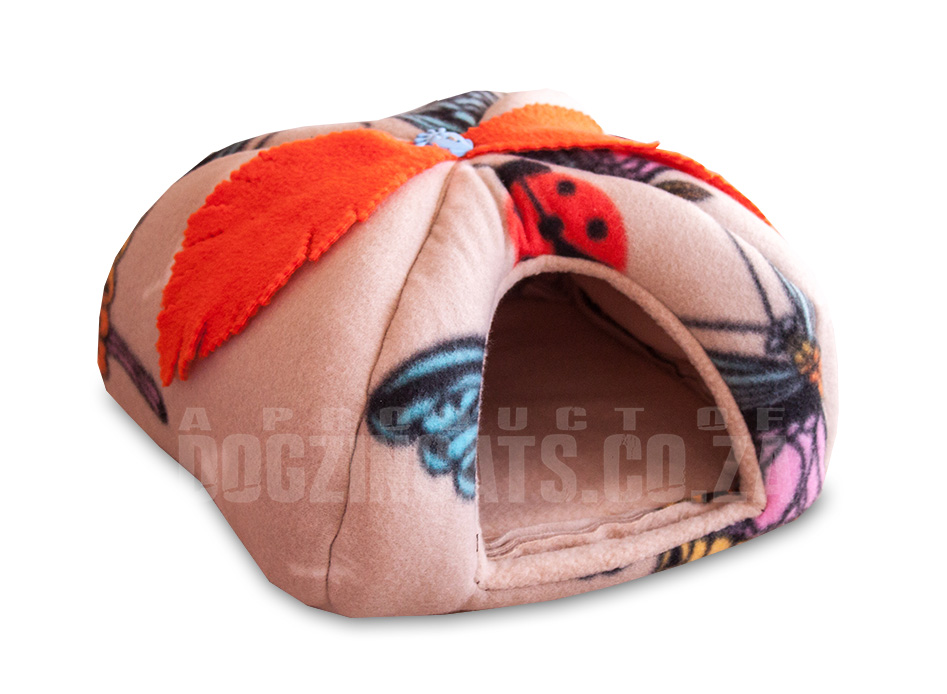 A cosy pyramid bed for your hedgehogs or other small animals.
Choose your own colours
Made in fleece
This can be hung in a cage to be used as a hammock or as a pouch (see images)
Approximately 19cm high, top opening approximately 10cm
Ideal for sugar gliders or baby marmosets.
Choose your own colours
Made in fleece
R
120.00
/ for set of 3 vines
Approximately 80cm. Each set contains 3 vines
Great for climbing.
A cosy little bed for your critter
Approximate size when open is 50cm, when closed, 25cm
Comes with straps for hanging in cage
Made in fleece
The Toadstool comes with clips attached. This allows it to be hung in the cage. If you'd prefer not to have the clips, please inform us.
Approximately 25cm high and 29cm wide
Ideal for small critters
The Hideaway can consist of 2, 3 or 4 hammocks
A fun place for both sleep and play
Made in fleece
Choose your own colours
A comfortable cube in fleece, the perfect addition to your baby's cage.
It can be hung from the top of the cage or placed on the floor.
It features a hole on top and on 2 sides allowing the marmoset to explore and allows you easy access as well.
Also suitable for Chinchillas, Guinea Pigs, etc.
Approximately 25cm square
Choose your own colours
Made in Fleece
2 openings
Approximately 20cm x 20cm x 12cm
Choose your own colours
Made in fleece
Similar to our cube, just longer, offering a bit more room inside
Approximate size = 25cm x 25cm x 40cm
3 openings
Choose your own colours
Made in fleece
A cute, cosy little slipper for your monkey, sugar glider or other small animal.
Great for winter.
Straps can be added to enable it to be hung in a cage
Approximate measurements:
Height 20cm
Length 32cm
Width 22cm
Opening 13cm
Made in Fleece
Choose your own colours
Approximately 23cm round and 16cm high
Used for a cage corner
Made in fleece
Choose your own colours
Approximately 22cm x 20cm x 20cm
Can be made without hanging straps
Made in fleece
Choose your own colours
Approximately 26cm x 26cm x 13cm
Comes with pillow
Made in fleece
Choose your own colours
Hammock With Sleeping Pouch
The hammock is approximately 37cm square, pouch height 30cm
Made in fleece
Choose your own colours
Open on both ends.
A comfortable spot to snuggle and nap after fun and play.
Two clips attach it to the cage.
Approximately 18cm high x 40cm long
A small hanging bed for your monkey.
Easily attaches to the cage with clips.
Reversible and washable.
Approximately 30cm across.
Main Dome measurements: Approximately 28cm wide x35cm deep x 24cm high.
The entrance is quite small.
For larger animals we suggest you get the Cat Igloo, which is much bigger.
Attaches to the cage with clips.
A snug place for your monkey to take a nap.
Approximately 20cm x 20cm x 5cm
Made in fleece
Choose your own colours
Double Bonding Pouch
A pouch enabling you to keep your baby marmoset closer to you
It helps with the bonding process
Single pouch is approximately 20cm x 20cm x 5cm
The double bonding pouch measures approximately 30cm x 20cm x 5cm
Made in fleece
Choose your own colours
A cuddly nap sack.
Your marmoset is able to climb inside for warmth.
Approximately 37cm square
Approximate Size:
Height – 23cm
Width – 28cm
Depth – 40cm
WASHING THE ITEMS
Vacuum the bed thoroughly to remove as much hair as possible.
Use a sticky lint roller to remove any hair the vacuum did not.
Use a damp cloth to wipe down the items.
If you decide to wash them in a machine, wash separately as the colours may run. Material has not been pre-washed.
Do not tumble dry items. Place outside to dry. This allows the foam to swell and resume its shape.
Many of the items can be turned inside-out which will allow you to easily wipe each item down as well as air it out.
Do not wash the Car Seats or Transport Bags in a machine. Wipe down only.
We will not be held responsible for items damaged due to running colours or use of washing machine.
MEASURE YOUR PET
• Measure the area around your pet when it is sleeping. This will give you a good idea as to the size of the base of the bed needed.
• Measure the height of your pet while it is standing to give you an idea of whether the height of the bed (for enclosed beds) is sufficient.
• Take into account that your pet will grow and order the larger size if one is available.
• Use the measurements given on our products to give you an estimate of the size of the bed before ordering.
• The sizes shown in this catalogue are the only sizes available.
** Make sure you measure your pet against the measurements we have provided for the beds in this catalogue before ordering a product. Also make sure you know the average size that your pet will reach once fully grown as this will help in judging the size bed it will need at a later stage.
HOW TO PLACE YOUR ORDER
• Choose your product and colour choice
• Email or phone your order through
• Remember to provide us with both the name of the item
• Once we receive confirmation of payment, we will start to process your order.
• Please allow approximately 3 weeks to complete your order. This does not include postage time.
• Items can be sent as regular mail or Postnet if you do not wish to use the courier service
OUR PRODUCTS
• Our products are all 'Made to order', which means we do not keep stock
• Please note that colours may differ slightly from those seen in the catalogue
• Colours and patterned material are also subject to availability
Important: Please read our Terms and Conditions before ordering.
Contact Details
For more information or to place an order, please contact Debbie
Telephone:         073 751 3737 (8am – 5pm | Monday – Friday)
Email:                sales@dogzincats.co.za
Website:            http://www.dogzincats.co.za
Facebook:          DogzinCats
(follow us on Facebook to keep up to date with all our products.)