You will see a price for a Sugar Glider version of the product. They will be ALL FLEECE as Sugar Gliders have special requirements.
---

As each of the items you order are customised to suit your style (colour, fabric, size) we have a no return or exchange policy. We are only able to resell the item if we are lucky enough to find a buyer with the same taste and need as you. Please ensure that you know all about the product before ordering so that you are well aware of what you will be receiving. The measurements given below are approximate.
All questions will be answered promptly. Email us at sales@dogzincats.co.za. If for some reason you do need to send the item back to us and we agree with the reason, please ensure that the item is as clean as possible. Make sure you have read our terms and conditions of sale as well.
---
---
---

---
---

---
---

---

---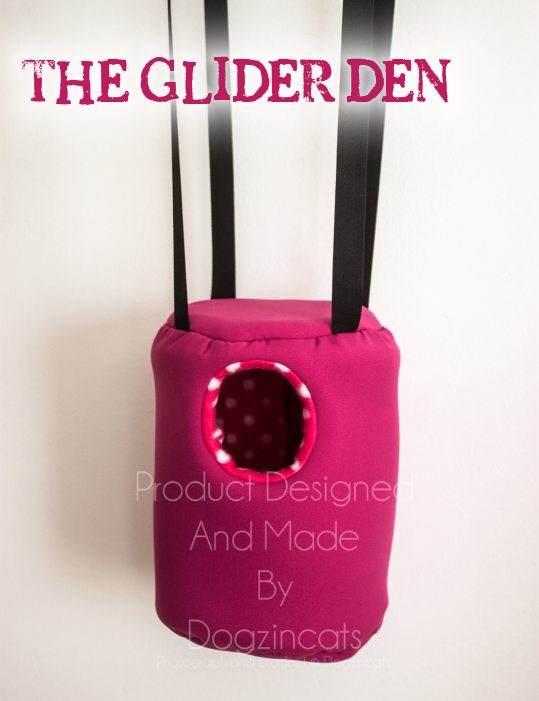 A warm little hideaway. A tube style bed with the opening higher up, allowing your pet to feel safe and secure while sleeping. Also a great place for Sugar Gliders to breed.
---
---

A cosy pyramid bed for your hedgehogs or other small animals.
| | |
| --- | --- |
| MATERIAL & FLEECE | ALL FLEECE |
| R135.00 | R150.00 |
---

This can be hung to be used as a hammock or as a pouch (see images above)
---

Approximately 19cm high, top opening approximately 10cm, ideal for sugar glider or baby marmosets.
---

Approximately 80cm. Each set contains 3 vines
Great for climing.
| | |
| --- | --- |
| PRICE | R120.00 for a set of 3 |
---
---

Clips not shown in above image. (see below)
The Toadstool comes with clips attached. This allows it to be hung in the cage. If you'd prefer not to have the clips, please inform us.
Size: Approximately 25cm high and 29cm wide
---
---

---

The Oblong bed is similar to the Cube, but is longer, providing extra room inside for your pet
Approximate size = 25cm x 25cm x 40cm
| | |
| --- | --- |
| MATERIAL OUTSIDE / FLEECE INSIDE | R170.00 |
| PRINTED MATERIAL OUTSIDE /FLEECE INSIDE | R185.00 |
| FOR SUGAR GLIDER (ALL FLEECE) | R205.00 |
---

Slipper Sack with hanging straps (optional)
A cute, cosy little slipper for your monkey, sugar glider or other small animal. Great for winter.
Height approximately 20cm
Length approximately 32cm
Width approximately 22cm
Opening approximately 13cm
---

Cotton material outside and fleece inside or all fleece for Sugar Gliders
Approximately 23cm round and 16cm high
Comes with hooks for easy attachment to cage.
---

Fleece material on the top and cotton on the bottom, wadding in the middle.
Only available in plain or gingham
---

ALL FLEECE

SMALL

18cm X 21cm

R80.00

MEDIUM

23cm X 26cm

R100.00

LARGE

28cm X 31cm

R130.00

JUMBO

36cm X 39cm

R145.00
---


Fleece outside and fleece inside.
This bed can either have clips to hang in the cage or without clips to put on the cage floor.
Approximately 22cm x 20cm x 20cm
---

A square foam bed. Cotton outside and Fleece inside.. Comes with a comfy pillow.
Size approximately 26cm x 26cm x 13cm
---

Cotton outside and underneath, with Fleece inside and on top.
Size approximately 37cm square, pouch height 30cm
---

Open both ends. The tunnel is a comfortable spot to snuggle and nap after fun and play. Two strong clips attach it to the cage.

Also suitable for Chinchilla's, Guinea Pigs, etc.
Approximately 18cm high x 40cm long
---
A hanging bed for your monkey. Easily attaches to the cage with clips. Reversible and washable. It will gently rock your baby to sleep.

Also suitable for Chinchilla's, Guinea Pigs, etc.
Approximately 30cm across.
---



Main Dome measurements: Approximately 28cm wide x35cm deep x 24cm high. The entrance is quite small. For larger animals we suggest you get the Cat Igloo which is much bigger.
| | |
| --- | --- |
| PRINTED or PLAIN MATERIAL OUTSIDE WITH FLEECE INSIDE | R195.00 |
---

Attaches to the cage with clips. A snug place for your monkey to take a nap.
Also suitable for Chinchilla's, Guinea Pigs, etc.
Approximately 20cm x 20cm x 5cm
---

The double bonding pouch below measures approximately 30cm long x 20cm high.
A pouch enabling you to keep your baby marmoset closer to you.
It helps with the bonding process.
Approximately 20cm x 20cm x 5cm
| | |
| --- | --- |
| SINGLE BONDING POUCH | R70.00 |
| DOUBLE BONDING POUCH | R120.00 |
---

A cuddly plush nap sack. Marmoset is able to climb inside for warmth.
Approximately 37cm square with wadding centre
---

Also suitable for Chinchillas, Guinea Pigs, etc.
Approximate Size:
Height – 23cm
Width – 28cm
Depth – 40cm
---

A comfotable cube with fleece interior is the perfect addition to your baby's cage.

It can be hung from the top of the cage or placed on the floor. It features a hole on top and on 2 sides allowing the marmoset to explore and allows you easy access as well.
Also suitable for Chinchillas, Guinea Pigs, etc.
Approximately 25cm square
Plain outer with fleece inner.
---

Approximately 20cm x 20cm x 12cm
---
PLEASE NOTE
We have a 'no return or exchange' policy on all our products as they are custom made per customer as well as for health reasons.
We do not do repairs on any items should they get torn or damaged in any way.
Washing the items:
We suggest that you use a damp cloth to wipe down the items.
If you decide to wash them in a machine, wash separately as the colours may run.
Do not tumble dry items. Place outside to dry.
Many of the items can be turned inside-out which will allow you to easily wipe each item down as well as air it out.
We will not be held responsible for items damaged due to running colours.

How to place your order
• Choose your product and colour choice
• Email or phone your order through
• Remember to provide us with both the name of the item
• Once we receive confirmation of payment, we will begin making your item.
• Please allow approximately 3 weeks to complete your order. This does not include postage time.
• Orders must be collected within 7 days of completion if you decide to collect
• Items can be sent as regular mail if you do not wish to use the courier service
OUR PRODUCTS
• Our products are all 'Made to order', which means we do not keep stock
• Please note that colours may differ slightly from those seen in the catalogue
• Colours are also subject to availability

Important: Please read our Terms and Conditions before ordering.
Contact Details
For more information or to place an order, please contact Debbie
Telephone:         073 751 3737 (8am – 5pm | Monday – Friday)
Email:                sales@dogzincats.co.za
Website:            http://www.dogzincats.co.za
Facebook:          DogzinCats
(follow us on facebook and our blog to keep up to date with all our products.)